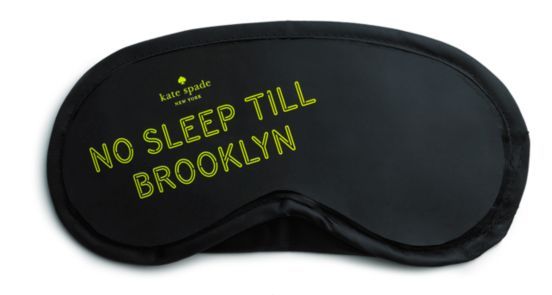 This morning I woke up at 4 am and wasn't able to fall back to sleep. It seems that if I have a glass of red wine at night, my eyes fly open before the sun creeps out from beyond the horizon. I don't usually have insomnia, but I know so many people who do. "Sleep hygiene" is a term I didn't think I'd be talking about quite so much or in such incredible detail as I am these days. How long should you read at night (Kindle or paperback?), where should your phone go to bed (definitely not in your sleep sanctuary!), and which accessories are imperative for the best sleep of your life? It's enough to keep you up all night wondering. We've rounded up a few options to try before reaching for a Xanax. It may be true that there's no sleep 'til Brooklyn, but once you get here you'll want a good solid eight hours, at least.
Get your routine down and learn to meditate
Before you run out and buy a weighted blanket, you should get your sleep routine down. Just like kids need a set bedtime ritual (bath, PJs, story, lights out), you should pick and stick to a bedtime, unplug about 30 minutes prior (step away from the Instagram/New York Times rabbit holes!) and add some adult rituals of your own to get in the zone. Maybe it's Yogi Stress Relief or Tulsi Sleep tea, some lavender lotion or spray (see below), followed by a book or journaling, but meditation should be a part of the plan.
In a sleep study comparing a group taught sleep techniques like these and a group who practiced mindful meditation daily, the meditation cohort got more zzz's. UCLA offers free guided meditations and a free app to get you started; there are plenty of meditation centers in Brooklyn, too.
Set The Scene
After daylight savings, I had a hard time dealing with the extra hour of sunlight. It got so bad that I pulled out a flimsy sleep mask that I usually reserve for airlines and started using that. It worked so well that I wondered why I didn't invest in permanent sleepytime eyewear. 41 Winks, a Brooklyn-based company, specializes in plush eye masks that block out all of the light and come with sassy sayings (you can even custom order your own!) in sateen or velvet that will definitely add another round to your REM cycles. (If you would rather have a No Sleep Till Brooklyn mask, keep your eyes peeled on sites like Poshmark.) Sleep mask, $40
When I visited Iceland the sun was up for almost 24-hours a day, but you wouldn't know it in our hotel room because it was equipped with blackout shades that blocked out every inch of sunlight. Amazon's best selling Blackout Shades are under $50 and come in a variety of colors (not just black) and have a silver backing that blocks out the rays. Before getting some froofy Ikea gauzy treatments, spring for something practical that will ensure deep sleep. Blackout shades, $45
When I stayed at the Dream Hotel once for New York Fashion Week, they placed spray bottles of "sleep spray" next to the pillows every night. I stocked up on them and used them for years to spray my pillows and sheets before I went to bed. I don't know if they did much to relax me but the spray smelled lovely and made it a treat to climb into the fresh-scented sheets. If I was going to buy some more perfume for my bed, I would go with The Psychic Dream Spray by Species by the Thousand, which is handmade in Brooklyn. Spray on your pillow in order to gain insights from your dreams and also to relax your body. A mixture of mugwort, lavender, and cedarwood is the exact smell I want in my bed. Psychic Dream Spray, $20
Turn up the volume
If you already have an Audible account, you might know how easy it is to fall asleep listening to an audiobook. But you may not have realized Audible also offers a "Sleep Better" course from Aaptiv, broken down into 7 installments of guided meditation and breathwork that is actually helpful (though the "This is Audible" outtro at the end ruins it for some). I've also fallen asleep to sound bath playlists like this one. But lately, because I find myself waking up to take off my headphones, I've been using a good old-fashioned sound machine instead.—Nicole Davis
Natural Sleep Aids
My husband's cousin was dealing with insomnia and tried everything on the market before finding Phosphatidyl Serine, a component of cell membranes that works for brain health and cognitive support. Some people seem to use it instead of coffee for mental clarity. But they also work to help you sleep! It stops hyperactive cortisol from producing in the brain so it can calm a person down enough to fall into a slumber. They work immediately and don't have any residual sluggish effects in the morning. My cousin swears by them and it has completely changed her life. On the other hand, I tried them one night when I woke up at 4 am, popping two with some water and falling back to sleep, but my rest was very light and full of strange dreams. It was better than staring at the ceiling, but not something that would help me over the long term. But for those with terrible insomnia, this may be worth a try. PS 100, $23.77
I drank the CBD Kool-Aid two years ago, and swear it did…something. My sleep improved, though it's possible it's because the CBD took away my nightly craving for alcohol which was ruining my sleep. But I got tired of spending a fortune on it and ingesting all that dank oil. Then I met these CBD and melatonin gummies from Charlotte's Web, which have helped in a pinch, including on a 10-hour flight where I needed to fall asleep during the day to avoid jet lag (it worked, thanks to the Timeshifter app). Normally I feel groggy after taking melatonin, but this combo doesn't give me a hangover.—Nicole Davis
Make Your Bed
Parachute or Brooklinen Sheets
There are two new sheets store in town: In January, Parachute just opened their first store in Williamsburg, a short walk away from the first-ever retail shop from Brooklyn brand Brooklinen, so you can comparison shop in person. Sheets range from percale to sateen to linen, depending on your preference and your budget. On the Parachute website, they state that 40% of Americans sleep without a top sheet, so they sell the two sheets separately. Who are these people? This could be the reason people have trouble sleeping! If you're having a hard time deciding which set to buy, this Brooklinen vs Parachute guide narrows it down for you; the Brooklinen Luxe Core set ($129) comes out on top. Sheets range in price depending on fabric and size. Parachute, 113 N. 6th Street, Williamsburg
If you have taken the subway recently, then you've seen ads for the Buffy comforter. Not only is it meant to be incredibly comfortable, but it's also ethically sourced and eco-friendly. It's made from natural eucalyptus and…is machine washable (unlike your current comforter which probably needs to go to the dry cleaners.) "It feels like I'm sinking into a tub of whipped cream," says a review on their site. There are over 14,000 five star reviews on their site, so I think it's safe to say people like it. This seems worth the price for a temperature-regulated comforter that feels like a cloud. The only problem is we may never get back out of bed. The best part is you can try before you buy, so there's no risk if you don't like it. (from $130- $260, depending on size and whether you choose original or temperature controlled.)
I hate to admit that I haven't upgraded my mattress in twenty years. Luckily I don't have back problems… yet. But the times that I've slept on a nice firm Casper Mattress I wonder about my life choices. Even sleeping in a tent on a glamping trip in the Rockaways was a delicious night's sleep with a Casper mattress. Firm yet still pillowy, the mattress cradles a body in a way that feels held, yet permissive. You can rollover without needing to build momentum, and you don't feel like you need someone to wrench you out of a hole when you get up. The Casper mattress is about $1000, and the new Wave (with cooling gel pods) is about $1400, so it is an investment, but considering we spend half our lives in bed, it seems worth finding an ergonomic option.