Greetings, friends, from Covid-19 isolation. It is my sincere hope that you are safe, healthy and (relatively) sane. Let me get out of the way at the outset that I am dreaming about the day when I can resume my monthly culture picks column from the right-side-up-world that allowed us all to blithely trot out to explore our incredible city and its world-renowned concert venues, theaters, museums, and galleries whenever we had a hankering for it. These days, a trip to the kitchen is about as exciting as it gets in terms of a change of physical scenery, but that doesn't mean that you're totally cut off from cultural experiences. In fact, you may be feeling some pressure because of the sheer volume of things that we are evidently meant to be reading, watching and listening to in this time when we also have to process terrifying news reports and a staggering degree of sudden loss and change. Personally, I still haven't seen Tiger King and I feel like I'm disqualified from every Zoom cocktail session I've been invited to as a result, but I just don't have the capacity right now. Anyway, my point is that we are all dealing with this situation differently—some of us are craving escape through culture and entertainment and others can't seem to concentrate on the most banal 30-minute sitcom—and that is entirely OK. The list below is a collection of things that can be enjoyed from the safety of your home this month if cultural activity sounds like something you are up for. If not, zero pressure to do more than you already are. This stuff and more will all be around if and when you need it, and someday, when things have gone back to a semblance of pre-virus life, I will be breathlessly previewing the premiere of Christopher Meloni's return as Elliot Stabler in a future Culture Essentials roundup, which is the best news I've seen this week. Sending love to all and please remember to be kind to yourself and others during this exceptionally trying time. 
1. Unorthodox
, streaming now on Hulu
I'm probably not the first person to recommend that you watch Unorthodox, but maybe I'm the first person you know who is watching it with her mother while we're on lockdown together, and I'm here to tell you that we're both hooked, extremely awkward sex scenes notwithstanding! The story of 19-year-old Esty, who escapes a bad marriage and the Satmar Hasidic community in Williamsburg for a new life in Berlin, is fascinating, beautiful, and gut-wrenching. The four-part Netflix miniseries is based on Deborah Feldman's 2012 autobiography of the same name, which I now want to get my hands on as well, and is absorbing enough to make you forget what's going on around us for a few precious minutes. 
2. Art immersions with The New Museum and MoMA 
As it turns out, The New Museum, in collaboration with artist Mark Tribe and his Rhizome project, have been commissioning, preserving, and exhibiting digital art online for years, long before any of us had ever heard of "flattening the curve." Now seems like as good a time as ever to explore First Look: New Art Online, which includes animated GIFs from Jacob Ciocci, a browser-based game from Cassie McQuater, and the intriguing-sounding Whispering Pines, a surreal pseudo soap opera by Shana Moulton. Meanwhile, MoMA has moved quickly to launch its own virtual capabilities, and will be releasing films as well as virtual explorations of its current Donald Judd and Dorothea Lange exhibitions later in the month. 
3. Staying In with Emily & Kumail
, available on Stitcher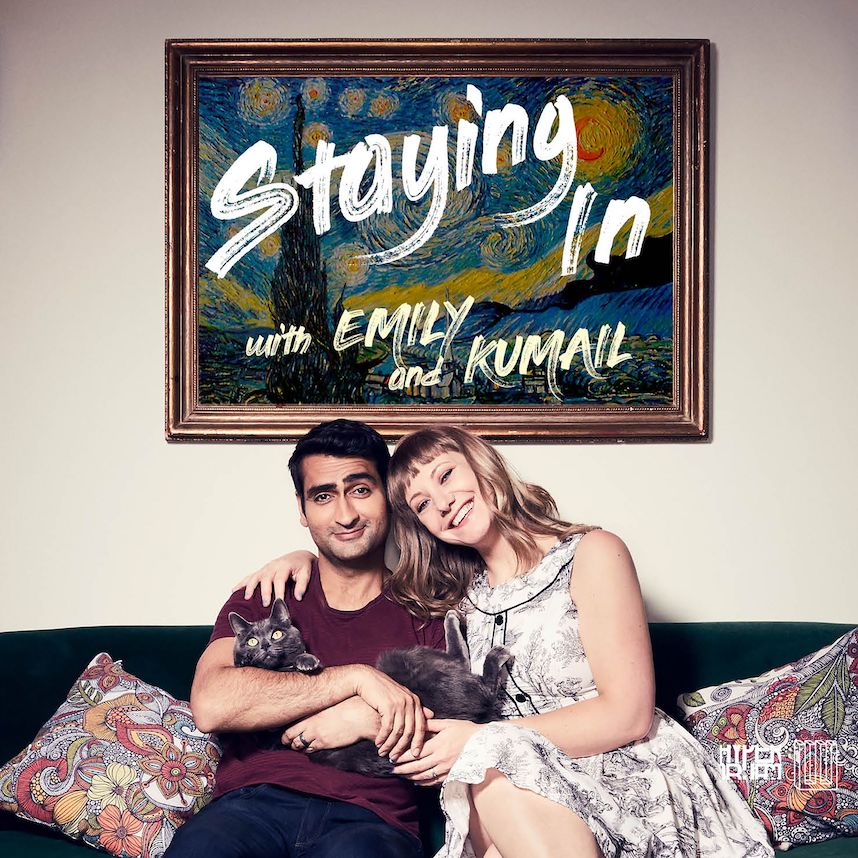 If you saw The Big Sick, you already know that actor/comedian Kumail Nanjiani relationship with his wife Emily V. Gordon's has been profoundly shaped by her chronic illness, and given that and the fact that both are work-from-home writers in normal times, the couple decided to produce a podcast together to help those of us who are less accustomed to a life of self-isolation cope with the new normal. Staying In is their guide to staying calm, avoiding cabin fever, and keeping yourself entertained when you can't leave the house, and all proceeds will go to charities that are helping people navigate the chaos wrought by coronavirus. So far there have been two episodes, as well as a bonus interview with David Chang, who called in to share his best tips for cooking from home. I'm planning to fire this up on one of my solo walks this week, wanna join me? 
4. Portrait of a Lady on Fire
, streaming now on Hulu
Just a few weeks ago, when the ability to catch a matinee at one of Brooklyn's fine movie theaters was a thing I totally took for granted, I was eager to see Portrait of a Lady on Fire, a well-reviewed French period piece about the affair between an 18th century noblewoman who is being married off and the female artist commissioned to paint her portrait. Given the current state of the world, the movie has been made available on Hulu earlier than originally planned, and now I've got the time to sit and savor it, even if I don't have popcorn, stadium seating, or surround sound. 
5. Wonderstruck
expansion, beginning April 2
I'm riding out the pandemic in the town where I grew up, and I've found a lot of comfort over the past few devastating weeks in being able to bear witness to the arrival of spring on my daily walks around the hood. Leaving aside the blooming daffodils and magnolia trees, I am amazed every day by the sheer quantity and quality of the birdlife around here, and it's been great to refamiliarize myself with the sound of woodpeckers and frequent bluejay sightings. In a time when nothing seems grounded or calming, the natural world has been a conspicuous source of solace, and as a result I've been eager to check out Wonderstruck, which started last fall when BBC America started airing a full day of nature and wildlife shows every Saturday. Now, in light of these tremendously stressful times, the network is adding expanding to a second day of Wonderstruck every Thursday, which sounds like a great thing to have on mute in the background as I try to muddle through endless work meetings over Zoom, or perhaps a much welcome respite for parents who are trying to navigate this virtual learning thing. 
6. Virtual First Saturday at Brooklyn Museum, April 4
Over the years, I've tipped a lot of different editions of First Saturday at the Brooklyn Museum for Brooklyn Based, and I can't say I'd ever envisioned this particular event being conducted remotely, but we're in weird times and people are making it work! From 5-10 on Saturday, this month's First Saturday programming will be entirely virtual—broadcast right into the safety of your home via Facebook or Zoom—and the theme is "From Brooklyn, With Love." Scheduled events include a foil embossing workshop, a live performance by singer/songwriter Adeline, and a drag tribute to disco hosted by Horrorchata and a handful of other ladies from House of Bushwig. To join, simply click on one of the links here and get ready for a significant improvement to your usual COVID Saturday evening plans.  
7. Afterlife
, April 7
One of this month's most hotly anticipated book releases is Afterlife, the first novel in 14 years from Julia Alvarez, who wrote bestsellers In the Time of Butterflies and How the Garcia Girls Lost Their Accents. The story, which follows a recently widowed retired English professor who befriends a pregnant, undocumented teenager who shows up on her doorstep, sounds like the perfect thing to immerse yourself in when you're feeling lonely and need to be reminded of human resilience this month. Incidentally, if you're looking for more reading recommendations, I just found out that the Brooklyn Public Library has a BookMatch service—you simply fill out a simple form and a BPL librarian will create a customized reading list for you based on your preferences. 
8. Watch
Parasite
with live commentary, April 10
Remember how exciting it was when the Academy actually got it right and gave Bong Joon Ho's Parasite the Best Picture Oscar? That was February 9, which simultaneously feels like seven lifetimes ago and also a thing that just happened. Ah, if only Trump wishing that Gone with the Wind or Sunset Boulevard won instead was the dumbest thing that came out his mouth these days. Anyway, for those of us who enjoyed Parasite, a beautiful, provocative, completely original film that was actually made in the current millennium, it is exciting news that it will be streaming this month on Amazon Prime. Meanwhile, Vulture, New York Magazine's home of all things cultural, is in the process of launching new virtual events and initiatives, including a public calendar that features Friday night movie watching with live commentary via Vulture's Twitter feed. On April 10 at 7pm, you can watch or rewatch Parasite with New York staff writer Alex Jung, who will be live-tweeting about it in real-time. 
9. Tigertail, April 10
Alan Yang, who is best known as the co-creator of Netflix's acclaimed Master of None series starring Aziz Ansari, is making his directorial debut this month with Tigertail, a feature-length movie about a Tawainese immigrant who comes to America in search of a better life and finds things here to be more difficult than he expected. The multi-generational drama spans several decades, and Yang recently tweeted that it is a love letter to his family and to all Asian-American immigrants. The official trailer is available here, and the film premieres on Netflix on April 10. 
10. Killing Eve, April 12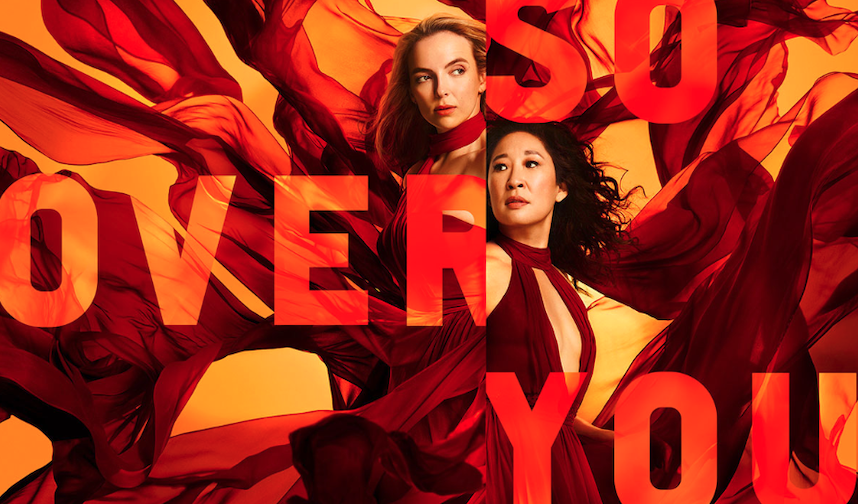 Fans of Killing Eve got some good news last week when AMC announced that it will move up the release date of the beloved series' third season a few weeks to April 12. If you've not seen the show, it's a feminist psychological thriller/dark comedy involving a remarkably charismatic sociopathic assassin and the MI6 agent who becomes obsessed with her, and Phoebe Waller-Bridge, who I consider to be practically perfect in every way, is behind it. Season 3 promises more antics, as the two lead characters will be forced back into each other's lives after a shocking death, and Villanelle will learn that Eve is still very much alive.