Rabbit rabbit, everybody, and welcome back from summer, which I can assume was a weird one for all of us, but hopefully one that included a chance to relax a bit and recover from the insanely traumatic times our city has endured in recent months. Typically, our September Culture Essentials is hard to whittle down to a few key events because everyone has recently returned from vacation with that palpable "back to school" energy and live events abound in every corner of the city, from comedy clubs to museums to galleries to theaters to concert halls and beyond. Sadly, we're still not up to full capacity in that regard, but the good news is that Phase 4 means that many of our celebrated museums are back up and running, albeit with stricter guidelines, with the rest slated to reopen to the public within coming weeks.
With fall around the corner, though, it's hard not to be paralyzed by two utterly terrifying fears, both of which feel unsurvivable: the dreaded "second wave" hitting our already beleaguered city and sending us back to the dark days of lockdown, and the ever-increasing threat of another Trump term. With regard to the latter, I'll take this opportunity to remind everyone to ensure that your voting registration is shipshape and you've sent away for an absentee ballot if that's your plan, although we recommend voting early in person if you can. Take a minute to get that all sorted here. With regard to the former, I am very optimistic that New Yorkers will continue to be vigilant and display the remarkable kindness, caring, and responsible behavior that has gotten us to the point that our museums can once again provide us with access to some of the best opportunities to experience art on the planet. Without further ado, here are some cultural happenings going on this month that I found to be of particular interest—hopefully some of them will strike your fancy too. Be safe and happy exploring!
1. Class Action Park
, out now 
OK, this is technically an August release, but seeing as how I forgot to plug it last month, I would be remiss if I didn't urge you to watch Class Action Park on HBO Max at some point if you haven't already. This documentary about Action Park, the legendarily negligent water park in Vernon, New Jersey, might have extra special resonance for people like me who grew up in the area in the 80s and still remember the TV ads and the kids at your school who showed off their injuries from the Alpine Slide on the playground, but it also touches on themes that feel more universally relevant. It is, as its heart, a reminder of a time when kids were raised with the kind of minimal supervision that seems batshit now in Brooklyn in 2020, when parents are required to attend every playdate and birthday party their child is invited to (or at least they were pre-COVID). Although the filmmakers spend some time on the tragic outcomes that were the result of Action Park's fast and loose ethos, there is a palpable sense of nostalgia for a time when life's dangers were relegated to a waterslide with a 360° upside-down loop and not a global pandemic and the collapse of democracy. 
2. Jazz on a Summer's Day, streaming now
The pandemic has changed me in some interesting ways (see, e.g., being incapable of responding to any text or email, sudden fascination with birds, refusal to wear anything but loose-fitting linen, etc.), including that I've found that I suddenly like listening to jazz music. I know, I know, it was something I was always supposed to like, but the truth is it just didn't really click with me until lately, when I've found it to be the perfect, non-intrusive and upbeat soundtrack to complement the new WFH routine or the hours I now spend cooking and cleaning my kitchen on an endless, infernal loop. When I saw that BAM is streaming a newly-restored version of Jazz on a Summer's Day, which is one of the first concert films ever made and features performances by Louis Armstrong, Thelonius Monk, Dinah Washington, Chuck Berry, and others of that ilk at the 1958 Newport Jazz Festival, I figured it would be a great way to support a beloved local cultural institution and get deeper into what is evidently a new area of interest for me. I'm excited to check it out the next time I'm puttering around my apartment aimlessly, meaning momentarily after I publish this roundup. 
3. The Met, open now
New Yorkers who have been experiencing museum withdrawal can rejoice now that the venerable Metropolitan Museum of Art's Fifth Avenue location has finally reopened its doors as part of Phase 4 (with lots of safety precautions in effect). Reserve or purchase timed tickets now to see "The American Struggle," a new exhibition of little-before-seen paintings by American modernist Jacob Lawrence, running now through November 1, or just spend an hour or two basking in the expansive permanent collection, an incredible resource that I for one will never take for granted again. 
4. MoMA, open now
Similarly, MoMA is also open to the public again and is offering free timed-ticket admission for a limited time if you sign up online. I previewed both the Dorothea Lange and Donald Judd exhibitions here months and months ago but was never able to make it to either before the city shut down, and I'm so relieved that I'll have the chance to see both before they are taken down (the Lange show runs only through September 19, but Judd's work will be on display through the rest of the year).  
5. The Lying Life of Adults
, Sept. 1
Well, it's September 2020 and, as such, it is time for me to stay true to my status as a card-carrying member of the cult of Elena Ferrante and recommend the long-anticipated stateside release of the superlative Italian novelist's latest title, The Lying Life of Adults, which hits shelves today. Early reviews indicate that anyone who caught Ferrante Fever after reading the Neapolitan Novels will be very satisfied with this book, which chronicles another young girl's coming of age in Naples, so I know what I'll be reading this month. Apparently, it's already been optioned by Netflix as well, presumably due to the success of the gorgeous HBO adaptation of My Brilliant Friend, which just aired its second season this spring. Happy reading, fellow Ferrante-heads!   
6. David Chang at Murmrr, Sept. 9 
When Momofuku's original location, the tiny noodle shop on 1st Ave between 10th and 11th Streets, opened in 2004, I lived a block away and was a frequent patron, often eating pork buns for Sunday brunch at the bar while I did the crossword puzzle at my leisure and watched a young David Chang (I didn't know his name back then) work his magic at the open kitchen. I knew the place was something special then, which was confirmed a few months later when I could no longer get in let alone hang out for a few hours, shortly after which Chang assumed the status of celebrity chef sitting atop a formidable food and media empire. Now, 16 years later, Chang is releasing a new memoir, Eat a Peach, that recounts his life in the restaurant world, his ascension to fame, and the struggles with mental health and feelings of inadequacy that accompanied his meteoric rise to the top of his profession. He'll be appearing to promote the book in conversation with New Yorker food writer Helen Rosner on September 9, an event that will be live-streamed via Zoom by Murmrr Theatre and Community Bookstore. Tickets are $35 each and include a signed copy of Eat a Peach. 
7. We Are Who We Are
, Sept. 14
One of the best movies I've seen over the past several years is Call Me By Your Name, so I definitely took note when I learned of Director Luca Guadagnino's new project, an 8-episode series entitled We Are Who We Are, which premieres on HBO on September 14. The show is set in 2016, and centers on two 14-year-old Americans living on an Italian military base, and stars Chloe Sevigny and Kid Cudi, among others. Based on his film, it seems we can expect a compelling, anguish-ridden exploration of teenage love and identity and sexuality that will not be easily forgotten. 
8. A Better Man
, Sept. 16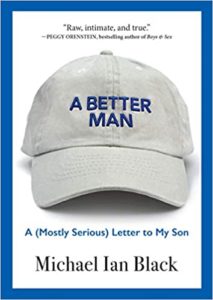 Michael Ian Black, the comedian best known for The State, Wet Hot American Summer and, more recently, a hilarious Twitter feed and occasional standup appearances, has a new book out that explores the difficult and timely question of how to raise boys in this era of toxic masculinity. A Better Man is written in the form of a "mostly serious" letter to Black's son, who is preparing to leave for college, and it sounds like a funny but weighty and ultimately hopeful memoir that is full of good advice for anyone who is intrigued by the gender issues facing us all at this moment. Greenlight Bookstore is hosting a book release event featuring Black and journalist Liz Plank on September 16, and tickets are available here. 
9. The Moth @ Green-Wood Cemetery, Sept. 16
Like everyone else in these unprecedented times, The Moth is adapting to our new (hopefully temporary) virtual reality. Case in point: a livestreamed storytelling event featuring four of The Moth's most beloved performers will be broadcast from the bucolic grounds of Green-Wood Cemetery on the evening of September 16. The theme is "Close Encounters," so you can expect tales of confrontation, crossing paths, chance meetings, near misses, and narrow escapes from storytellers Dion Flynn, Flash Rosenberg, Devan Sandiford, and Angela Derecas Taylor. Tickets are $15 each. 
10. Kajillionaire
, September 25
Miranda July's newest feature film, a crime-comedy called Kajillionaire, finally hits theaters September 25 after a pandemic-induced delay, and it's got a killer cast that includes Richard Jenkins, Debra Winger, and Evan Rachel Wood. Jenkins and Winger play con-artists who have spent 26 years training their only child (Wood) to help them mastermind scams, but things get complicated when she recruits a new partner in crime, played by Gina Rodriguez. Seeing as NYC theaters are not set to reopen anytime soon, you may have to see this one in Jersey or just wait for it to be on-demand in October.