While we're not back at early pandemic levels of despair, the arrival of another variant doesn't exactly warm the soul. You could curl up in a Cozy, the latest knockoff of the inexpensive Snuggie of yesteryear. But that won't help you fight the cold of a NYC winter. Take your pick from all sizes and shapes for when you venture outside. While you're at it, you might as well upgrade your boots, too.
Wearable Blankets
When looking for wearable blankets, why not approach the masters of blanket weaving? Pendleton has taken their wool blanket and made a coat out of it ($499). Let this replace your basic camel hair option, and look spiffy enough for a trip to Wegman's.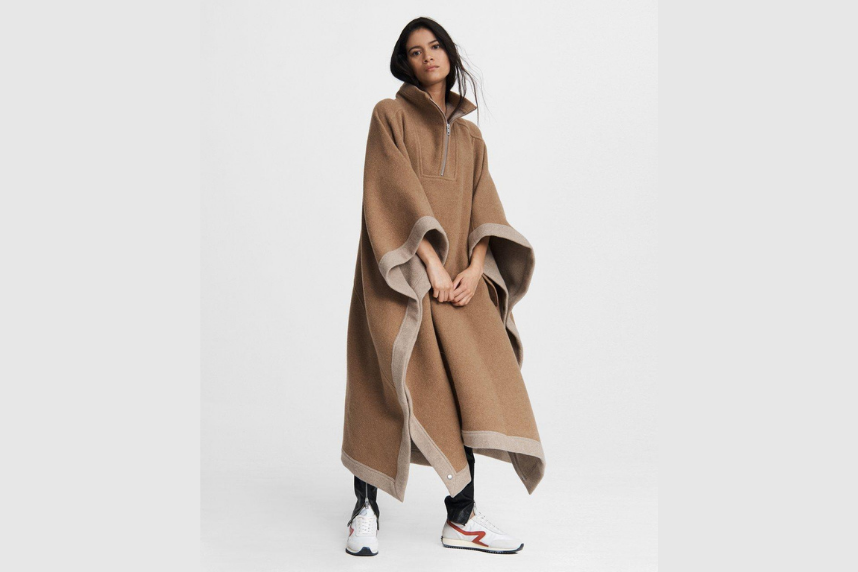 Maybe you prefer a more fashion-forward option? This Wool-Blend Cape ($1195) by Rag & Bone is what winter dreams are made of. It's now sold-out (you can try to find it on eBay or Poshmark); but this Ralph Lauren cape ($200) is a well-priced second choice. Wear this over your stained sweats or your pajamas and look instantly chic yet comfortable.
Need something to help with your Seasonal Affective Disorder? A cheerful Quilt Coat will bring some color to your black hole of despair. If you have your own vintage quilt, you can send it to Psychic Outlaw, who will create one for you from your recycled textile—or you can buy the quilt from them at their weekly "quilt drop." (Read their recent NY Times profile for more info about the company.)
For a gorgeous prêt-à–porter option, a quilted beauty by Sea ($595) looks as comfortable as a bathrobe. But a bit more refined than something you'd wear on the way to the shower. It's a statement piece for sure, even if your statement is "When will this all be over?"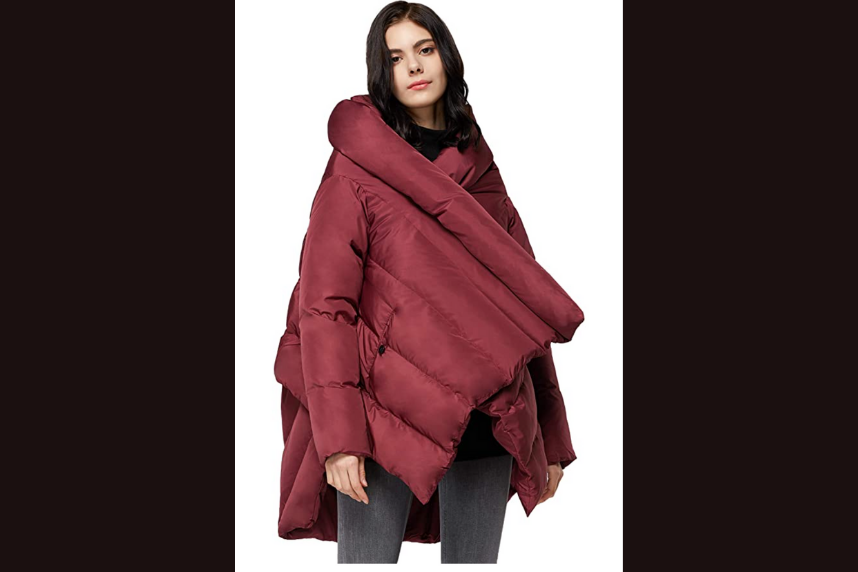 We don't want to shop at Amazon, but if you have to, they have some comfy coats in a variety of price ranges. The snuggie-like blanket pictured at top is sherpa lined (which refers to that bumpy, fleece-like material, not a Himalayan mountain guide) ($42) and has pockets, which essentially seals the deal. This mid-length asymmetrical puffer is another cozy option ($119). I can see wearing either one for a movie marathon, falling asleep, waking up in the morning, and continuing my day.
Sleeping Bag Puffers
This quilted vest from COS ($135) is like a fashionable sleeping bag. It will keep you warm indoors and is meant for layering (if) you leave your house. 
A long quilted jacket that feels like a bathrobe but isn't is the ultimate in pandemic wear. The army green color of this one from Ganni ($425) gives a fashion warrior look, but the felt trim signals a brave heart. I can see wearing this with a matching mask as a new protest uniform.
In terms of fashion history, Norma Kamali is the OG of the sleeping bag coat ($1275). It's expensive but iconic. The designer literally used NASA technology to create an insanely warm coat. My mother-in-law gave me one when I first had a baby that I would wrap over the both of us, and I can attest to the heat preservation.
Everlane has grown into the place to go for all affordable, ethical, good quality basics for everyone, including this Long Puffer ($198). It's long, it's warm and it's made with recycled down. It probably won't last forever, but then again who knows what will happen by next winter?
For next-level sleeping bag apparel, there is the Selk Bag Nomad suit, a wearable sleeping bag ($250) that is like your favorite bib snowpants from childhood combined with sleepover vibes. It's infantile, sure, but will it make you happy and keep you cozy? YES. Case closed.