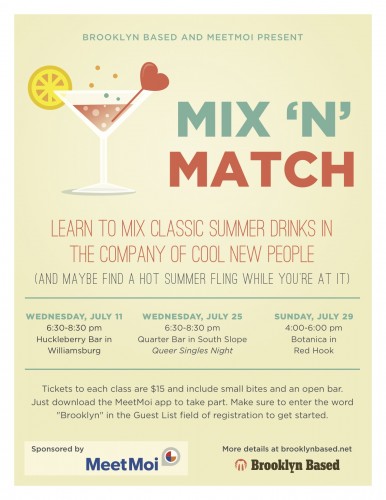 You know how hard it is to meet someone in New York. Despite all your well-intentioned, matchmaking friends and multiple profiles, it still takes the stamina of a marathoner to meet for every drink, dinner and party that might lead to the one.
So we're making it easier to find a summer fling with MeetMoi, a new app that introduces you to the people you want to date. You just download it, create a profile, and let your phone set you up while you're out.
This month, we've put together three perfect nights out: delicious, booze-y summer cocktail classes where you can learn how to make classic drinks and meet someone new, all while learning an essential skill.
At either Huckleberry Bar, Quarter Bar or Botanica, you'll get a lesson on mixing three great drinks, followed by small bites and an open bar. Each class is worth far more than the $15 ticket price, available only to those who sign up for MeetMoi now or before the cocktail class begins. And if you can't make one of our cocktail parties, you can get a free two-week membership to MeetMoi and be entered to win a bottle of Brooklyn-made spirits from Greenhook Ginsmiths, New York Distilling Company, Cacao Prieto, or Industry City Distillery when you download the MeetMoi app and create a profile now. To be entered to win, download the iPhone or Android app and enter the word "Brooklyn" in the Guest List field of registration. We'll announce the winners by July 29.
Sign up for one of the classes below to learn to make classic summer drinks (and find a hot summer fling while you're at it):
Huckleberry Bar (588 Grand St., Williamsburg, Wednesday July 11 6:30-8:30 pm)
Tickets include lessons on 3 cocktails, open bar and small bites, available here
Quarter Bar (676 5th Ave., South Slope, Wednesday July 25, 6:30-8:30 pm)
Queer Singles Night
Tickets include lessons on 3 cocktails, open bar and small bites, available here
Botanica (220 Conover St., Red Hook, Sunday July 29, 4-6 pm)
Optional tour of Cacao Prieto distillery after class!
Tickets include lessons on 3 cocktails, open bar and small bites, available here