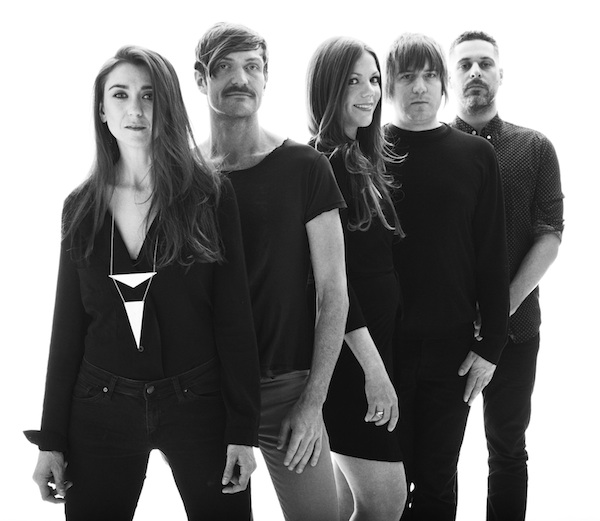 Desert Stars' new album, Habit Shackles, is out Tuesday. The band will be playing that night at Cameo Gallery, 93 N 6th Street, Williamsburg, 8pm, $8-10. 
There are many reasons to start a rock band–the need to create, the need to become famous, or a combination of the two being near the top of the list in many cases. Singer and keyboardist Janelle Best however, started her band, Desert Stars, to stay out of trouble after she quit drinking. "I cleaned up my act," she says, "because I had a little bit of a problem in getting carried away with the New York City scene. Then some of my friends who don't drink were like 'You should get a hobby.' I was like, 'I used to play music, I could do that again.'" One day on the street, she came across a keyboard in the garbage. "It looked like it was in perfectly good condition," she recalls. "I took a chance and I carried it home and I plugged it in and it totally worked. For the first three months of being sober, I started writing songs."
What started out as a way for Best, a Georgia native, to get back on track following her sobriety five years ago has become a full-fledged musical endeavor. She and the other members of the band–Carrie Ashley Hill, Tim Edgar, Eric Altesleben and Gregg Giuffré–will release their new record, Habit Shackles, on Tuesday, July 16. "It's really exciting," Best says about the work, which was recorded at various studios around Brooklyn. "It's taken seven months to get this thing out, so it feels like an eternity."

Best's after-worldly lead vocals and the harmonies she creates with Hill lend the band much of their distinctive sound. "There were three girls and two guys at once, and now it's three guys and two girls," says Best. "The three girls at the time were trying to do the three-part harmonies. I was in chorus too growing up and most of the girls were too. We sat around after practice and would do a cappella harmonies together in my bedroom. The other two girls used mics and I didn't because I'm really loud. So that's how we practiced. We really kind of made it a focus to do those three-part harmonies through the whole album."
DESERT STARS – Past in the Trash (Official Video) from DESERT STARS on Vimeo.
Those harmonies are accentuated by piercing guitar and the intensity of the rhythm section. "As soon as [Eric] became our guitar player it just felt so right because his style is so much like the bands I loved listening to," says Best. "So it just worked because he could float his guitar to make these swooping [sound]scapes that. And it's great. [Drummer] Greg is such a treat to work with too. Before I would be like, 'Can we get a bit of a more tribal feel?' And with "Boys I Like," you really get that feel of that tribal, tom-driven beat. They're just so fun to work with.
The '90s indie music scene has had a major influence on Desert Stars' Sound. "I was into the cool music of the '90s and really relied a lot on the college music out of Atlanta to hear all the indie stuff coming out," she says. "My dad moved to Philly, so when I visit him, I make him take me to Tower Records and that was back when there were the zines. I would just pore all the zines I could…and you just read the descriptions of these bands that I've never heard of. I got swept away with trying to have this really obscure music collection. I would send out checks to the labels and say, 'Send me this album.' So I was a music hoarder and I really liked really weird stuff."
DESERT STARS – Boys I Like (Official Video) from DESERT STARS on Vimeo.
Best drew from personal experiences for the lyrics for the songs on Habit Shackles, especially about relationships she's had. "'Boys I Like" is about my best friend who always–whenever I say I liked someone–throw herself at the guy, and I didn't know how to deal with it anymore, I was so pissed. So I wrote that song out of so much anger," she says.
"I wrote 'Habit Shackles' about a friend that I tried to have a little bit of a relationship with, but it didn't work because we're in the friends zone. 'Dear Jamie' is about one of my best friends named Jamie. She went through a really bad breakup and I've never seen her weak before and she had a breakdown in my kitchen. I gave her a pep talk that day. And when she left, I cried because I was hurting for her and I put that pep talk into a song."
The band is working on pulling together a serious East Coast tour for the fall and has been gigging around in the city for some time. Best says that performing at the Bowery Ballroom was a personal milestone. "I remember a friend of mine played a show with Cass McCombs and she had a keyboard malfunction. I said, 'I'll bring you one of my keyboards.' I brought it to the venue–this was years ago–I walked up to the stage and handed it to her and I stood on that stage and I was like, 'Oh my God. That's the place I go to see all the great bands.' It's my favorite place. So to be able to get on that stage was the biggest deal. I actually cried."