Not to scare you, but Halloween is quickly approaching.  Instead of making the yearly run to Duane Reade to try to pull something together for the kids, here's some locally sourced Halloween ideas that your trick-or-treaters could actually end up using for year-round play.
Unicorn Horn Headband/Hair Clip by Brooklyn Owl
If your little one dreams of magic, fulfill their fantasy with this unicorn headband or hair clip. Retailing for only $15-$20, depending on material, these horns come in an array of vibrant and sparkly colors and your choice of original 5- inch or tween, 3.5- inch sizing, fitting the youngest trick-or-treater to the oldest. Brooklyn designer Annie Bruce came up with the idea when her daughter requested a unicorn-themed birthday party, and she made the horns as party favors. Now the horns grace the heads of all equestrian-loving kids throughout the country (or at least they should). The unicorn horn is sewn into an elastic headband for a secure fit, or can be clipped directly into the hair. Paired with a matching leggings and a homemade tail, your child will be merrily galloping for their candy.
Available at Cute Attack, 770 Metropolitan Avenue, Williamsburg  347.889.6555. Open Wednesday- Saturday 12:00pm- 7:00pm; Sunday 11:00am- 5:00pm or at the Brooklyn Owl Etsy shop.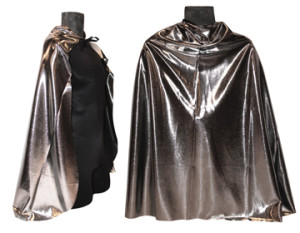 Cape and Personal Flight Shield by Brooklyn Superhero Supply Co.
For the superhero/ superheroine in your brood, why not give them the pleasure of creating their own comic character?  At Brooklyn Superhero Supply Co., your child can gear up to protect any galaxy they  dream up. Plus, parents can feel good knowing that all proceeds go towards supporting BSS Co.'s other venture, the free tutoring program, 826 NYC. Kids can choose a dazzling 34" long silver or gold lamé cape ($30) that will definitely stand out from the pack, and be worn long all year long. Additionally, the store sells literally anything else that a superhero could need. Flight Tilt Indicator? Check. Deflector bracelets? Check. Invisibility Detection Goggles and X-Ray Glasses? Check and check. My son's favorite is the Personal Flight Shield ($9), a clear one-size-fits-all helmet that will definitely protect any costumed crusader at high altitudes. Now if only they sold a gadget to protect your child's candy from being eaten by their siblings.
Brooklyn Superhero Supply Co.,372 5th Avenue, Park Slope 718.499.9884. Open daily from 11:00am-5pm; although since it is volunteer run they suggest you call first.
Handcrafted Trick-or-Treating Bag
Why settle for a plastic disposable bag for all that candy collecting? Your trick-or-treater might be happy to get something a little more special, which they can use every Hallow's Eve. Brooklyn Women's Exchange was founded in 1854, and is probably the oldest gift shop in the borough. This charming store houses a vast selection of Halloween accoutrements: pumpkin infant hats, special jack-o-lantern matches, handmade witch's hats and wooden ghost puzzles to name a few. But they also have a selection of artisan, Halloween-inspired totes that are big enough to hold candy (and even an extra sweatshirt) on the big night. Charming quilt work totes ($18) are handmade by Kay Biasotti, and come in a variety of spooky patterns like black cats. Also, for big spenders, designer David Alioa makes an intimidating canvas bag ($58) with a leather skull applique that moms will certainly want to steal after the Halloween revelers have all been tucked into bed.
Brooklyn Women's Exchange, 55 Pierrepont St., Brooklyn Heights, open 11-6 Tuesday through Friday; 11-5 Saturday and Sunday