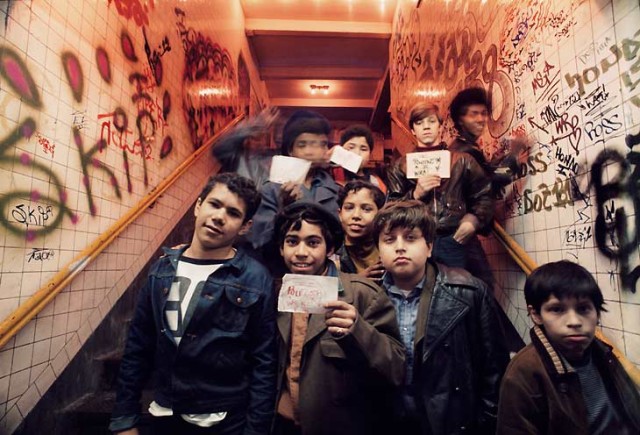 Graffiti as an art form has everything to do with kids. Many famous graffiti artists from the '70s were just teenagers when they were scribbling, spraying and tagging subways and building facades. Many artists, most notably Keith Haring, Jean-Michel Basquiat, and FUTURA 2000, easily made the transition from street tagger to fine artist, paving the way for others to show their work in galleries and museums. Yet graffiti has always been a way for kids to make their mark–to show that they exist, and have something to say.
Efforts by the city to remove these acts of "vandalism" from the subways and buildings in the '80s and '90s left very few of the original works of art intact. (One remaining epicenter of NYC graffiti, 5Pointz in Queens, was demolished just last year.) The late artist Martin Wong collected and preserved many early works, and donated his 150-plus piece collection to the Museum of the City of New York in 1994 before he died of AIDS in 1999. This retrospective, "City as Canvas: Graffiti Art From the Martin Wong Collection," is like a time capsule of the NYC graffiti movement, with sketchbooks, canvases and plywood samples creating a thorough timeline for viewers.
My four-year-old son doesn't comprehend the value of this unique collection of works. But he does know a great Mickey Mouse (Keith Haring) or Howard the Duck (LEE) image when he sees one. Plus, in terms of early literacy, there is nothing more fascinating than trying to decipher bubble letters, or at least it was for my son, who thought that was a hoot. He also loved the idea of a sketchbook where he could keep all of his drawings in one place, instead of the scraps of paper we have scattered around the house.
An eclectic grouping of artists are represented here: LADY PINK, DAZE, and RAMMELLZEE (who was honored last year with a colorful retrospective at the Children's Museum of Arts in Tribeca). A short documentary by Charlie Ahearn, director of legendary 1983 film Wild Style, screens on one of the walls, completing the vibe.
A visit to this museum with kids is not complete without a stop upstairs at the insanely detailed, magical Stettheimer Dollhouse. This giant-scale dollhouse, created by the late socialite Carrie Stettheimer, is modeled after her real 58th Street residence where she grew up with two sisters, and is intricately decorated with tiny china sets, canopy beds, an elevator, and real miniature paintings by Marcel Duchamp and Albert Gleizes. Beware, your doll adoring daughter may want to upgrade her Barbie dreamhouse.
After picking up a spray paint mug from the gift shop, we chose to head east from Museum Mile and eat lunch in East Harlem, where many murals have thankfully been preserved, like the Graffiti Hall of Fame at Jackie Robinson playground, and the notorious Keith Haring "Crack Is Wack" mural. El Paso, a cozy and child friendly spot, fit the bill with a delicious Mexican brunch. We bypassed the two-hour unlimited drink option (which seemed like a deal to remember for my next visit sans child) and opted for Huevos Rancheros and Blueberry Hotcakes, which were both devoured within minutes.
The Museum of the City of New York, 1220 Fifth Avenue (at 103rd Street). Open 7 days a week: 10am-6pm. Admission: Adults $10; Children under 12 are free.
El Paso, 1643 Lexington Avenue (at 103rd Street). Open Sun-Thurs: 11am- 11pm; Fri- Sat: 11am- 12am