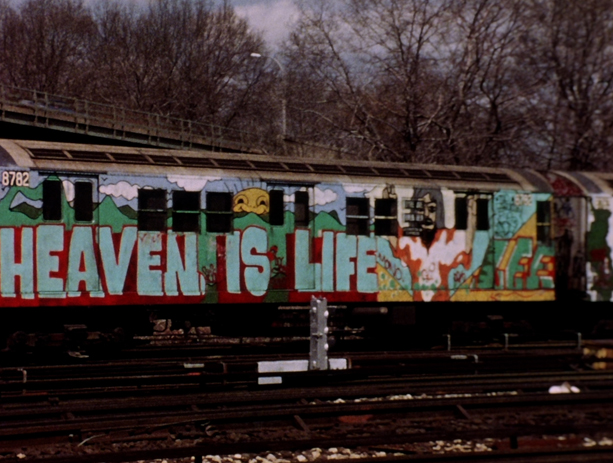 Stations of the Elevated is a weird film, to be perfectly blunt. If you have more than a passing interest in graffiti and the evolution of street art in New York City, then you've probably seen the documentary Style Wars. Stations, which has been billed as "the earliest filmed document of graffiti," by BAM, where it opens Friday for a one-week run, is nothing like that.

An entirely visual exploration of the graffiti that festooned New York City's subway cars when it was filmed in 1977, Stations makes no explicit comment on graffiti or the culture surrounding it, features no footage of people painting tags on subway cars or anything else, and has zero interviews. It's all just footage of cars, in a trainyard in the Bronx and rolling through elevated stations, intercut with footage of billboards also visible from those stations, all set to a soundtrack by Charles Mingus. 
The director, the documentary filmmaker Manfred Kirchheimer, is known for his depictions of urban life, and for trusting viewers to draw their own conclusions based on images rather than narrative or talking heads. Here, by interspersing painted trains with billboards in varying degrees of completion, he opens a conversation about why we privilege certain images and not others, why billboards selling us sunscreen or cigarettes are acceptable, while graffiti-ing otherwise unadorned, and remarkably unlovely trains, is seen as clandestine, even criminal act. At least that was my take on it–this is an excellent movie to go see with a date, because its lack of overt explanation is sure to fuel at least two cocktails worth of conversation after.
While I respect Kirchheimer's aesthetic, I found the most interesting part of the film to be a sequence that eavesdrops on a group of teenagers discussing various graffiti writers and their work as they sit at a station, watching trains pass by (he also manages to capture on film that crazy thing your eyeballs do when you watch a train go by). And, it made me wish for an entire documentary about billboard art (not to mention a closet full of bell bottoms).
If you want to know more about graffiti, its history and the artists who snuck into tunnels and trainyards to paint it back in New York's bad old days, there are plenty of other options out there now. But if you want a glimpse into what the city looked and felt like in the late 1970s, you won't find a better 45 minutes than Stations of the Elevated.