We're always keeping an eye out for new films, albums, performances and openings we think are worth knowing about in advance. From Sufjan Stevens finally dropping a new album to a Brooklyn murder mystery movie you'll seriously want to stream and the Björk retrospective everybody is talking about, here is our Culture Top 10 for the month.
10. Terms of Service: Social Media and the Price of Constant Connection
Jacob Silverman gives a thorough investigation into the world of social data that we are creating and giving away to the tech world. His launch party at powerHouse Arena is on March 17–save the date and leave your phones at home.
Published by Harper (3/17/15)
---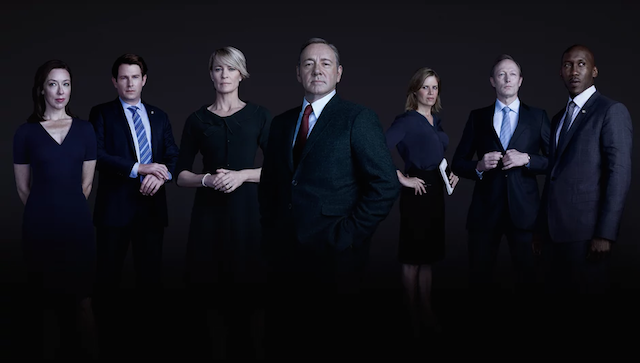 9. The Third Season of House of Cards
Frank and Claire Underwood exchange their house of cards for the White House only to find themselves in uncharted waters for the third season of this wildly popular Netflix Original Series, all 13 episodes of which became available for streaming on Feb. 27.
Photo: Netflix
---
8. Carrie & Lowell
It's been almost five years since Sufjan Stevens released an album. We get that he's been busy with other creative endeavors—he most recently scored and shot a cinematic ode to the rodeo for BAM—but personally, we can't wait to put his airy, instrumental new offering on repeat when Carrie & Lowell (named after his mother and stepfather) drops later this month on March 31. You can listen to the trailer here.
Photo: Asthmatic Kitty
---
7. Escape upstate to The Hudson Milliner
When we heard Brooklyn artist and the restauranteur behind Chez Oskar and Lola in Fort Greene, Charlotta Janssen, was turning an old milliner's shop in the historic Hudson Valley into a boutique guest house and inn, we immediately started fantasizing about one last winter weekend getaway.
Photo: The Hudson Milliner
---
6. Constellations
You've got two more weeks to do a little star gazing at the Manhattan Theatre Club before Ruth Wilson and Jake Gyllenhaal take their final bows on March 15. Both actors made their Broadway debut during the U.S. premiere of Nick Payne's critically praised romantic drama, Constellations, about a couple whose connection defies the construct we've come to expect from a relationship.
Photo: Joan Marcus
---
5. Semele at BAM
Asia and Eastern influence on Western art are two topics being explored by some of the city's biggest cultural institutions this spring, starting with the opera, Semele, directed by Zhang Huan and being staged at BAM from March 4–10. The Howard Gilman Opera House will be transformed into a Ming Dynasty temple inhabited by inflatable puppets, sumo wrestlers and members of the Canadian Opera Company in order to tell the myth of Semele, whose attempts at exchanging sex for immortality didn't go over so well with the gods.
---
4. Nonprojections for New Lovers 
A recent Hugo Boss Prize and upcoming exhibition at the Guggenheim have people talking about the Sunset Park-based video artist Paul Chan, who stepped away from the art world five years ago to found his own publishing imprint, Badlands Unlimited, out of the south Brooklyn neighborhood. He's now back in a big way, with the first U.S. presentation of his new work opening March 6, which features his signature video projections, as well as power-conducting shoes.
Photo: Jason Mandella/Guggenheim Museum
---
3. A Little Life
For her sophomore novel, Hanya Yanagihara has woven together the stories of four college friends (one a Brooklyn artist) across three decades of friendship, starting as they move to the city after graduation and working through the emotional highs and lows of adulthood, touching on topics such as race, class, sexuality, politics and ambition along the way. Yanagihara isn't afraid to enter the dark places most people don't like to talk about. At over 700 pages, it could quite possibly take you all spring to read A Little Life, but that's ok, because if you only read one book this season, this should be it.
Published by Doubleday (3/10/15)
---
2. Wild Canaries
While some of us go to great lengths to avoid our neighbors at all cost, fictitious Brooklynites Barri and Jean are not as anti-social as us in Lawrence Michael Levine's new dark comedy, Wild Canaries, out now on iTunes and showing at IFC Center one last time today, March 5. When Barri's elderly neighbor Sylvia drops dead under what she deems to be suspicious circumstances, the two women take the investigation into their own hands to figure out who did it, only to unearth a slew of secrets about Barri's building she might have been better off not knowing.
Photo: Kuba Bozanowski
---
1. Björk at MoMA
The exhibition possibly getting the most buzz at the moment is the Björk retrospective opening at MoMA on March 8. The Icelandic composer/musician/singer has always captivated a massive audience as much with her music as with her visual aesthetic and ideas. For its part, MoMA has mined over two decades worth of creative endeavors—as well as eight of her albums—to put together its look back at Björk's life's work. And just to prove this retrospective doesn't mean she's anywhere close to retiring, Björk will perform two sold-out shows at Kings Theatre in BK later this month.
Photo: One Little Indian