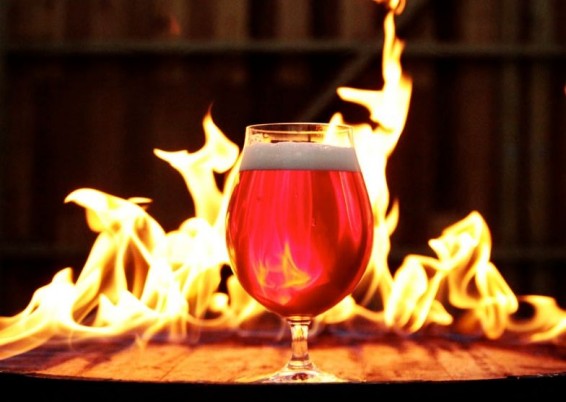 Before the recent craft beer boom, the only Brooklyn-made beer most of us had tasted was from the good folks at Williamsburg's Brooklyn Brewery. Then for a while there we had Sixpoint and Kelso mixing it up a bit, and today there seems to be a new Brooklyn brewery popping up every month. Now that Brooklynites are turning out some of the most inventive beers in the country, we singled out five Brooklyn-made beers you should get to know, and the bars currently pouring them. Tap lists do change frequently, so these beers will not always be available at the stated locations. But with warm weather drinking season already upon us, there is plenty of time to discover them in your bar crawls.
1. Other Half – Maple Sap Beer
This American, blond-style beer from Gowanus' very inventive Other Half Brewing makes a fairly genius play by subbing in maple syrup for water in the beer. I mean, why not? The result is a smooth drink that is full and flavorful but not nearly as heavy (or as sweet) as you might imagine.
Where to Drink It: Covenhoven in Crown Heights
2. Greenpoint Beer and Ale – Homeboy's Whim #3
This microbrewery housed in Greenpoint's Dirck the Norseman tavern is churning out a whole parade of creative beers with hipster-baiting names. This light bodied, single hop, Belgian-stye ale offers fragrant notes of peach, melon and lemon peel with a Trappist yeast. The result is a very flavorful, but easy drinking session beer.
Where to Drink It: Dirck the Norseman
3. Sixpoint – Signal Smoked IPA
You may have sampled this one in the past at NYC events like Meatopia and Pig Island. Now this brew, specially made for BBQs, is available for sale. The smoky malt and aromatic hops, batch-blended and aged in JD Willet bourbon barrels, results in a deep, bacon-y flavor with lots of smoke.
Where to Drink it: Download Sixpoint's mobile app to find out where it's on tap at any given moment! Right now it's at Barcade.
4. Brooklyn Brewery and Mountain Goat Brewing – Ridgy-Didge
This collaboration between Brooklyn's beer behemoth and Australian brewers Mountain Goat is what they call "a strong saison with a distinctly Australian edge." That means that the basic brew is amped up with Tasmanian pepperberry and lemon myrtle leaves. The resulting honey-colored brew is hoppy but easy-to-drink with a slight sweetness–the perfect summer daytime beer.
Where To Drink It: The new Three's Brewing in Gowanus.
5. Threes Brewing – Everything Was Until Forever, Until It was No More
Speaking of Threes, these guys definitely win the beer-naming contest, and most of what they're making is pretty tasty, too. While they have some light summer drinks on tap, those of you looking for something a little more serious should check out this Russian imperial stout. Brewed one time only, this 10.5% ABV dark beer delivers a bold nose and flavor with licorice, dark fruits, roasted malts and bittersweet chocolate–like a Guinness on steroids.
Where To Drink It: Three's Brewing in Gowanus.