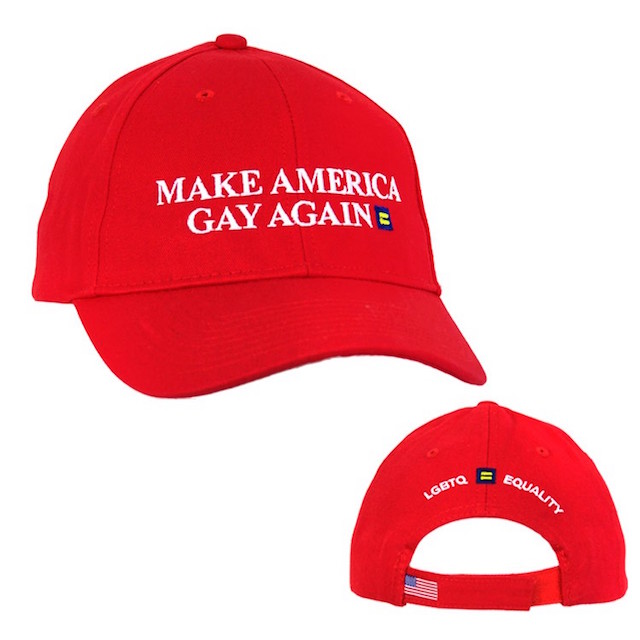 This may be a supremely weird and exhausting election, but it does have one thing going for it–amazing political gear.
We don't get to vote until November (if you haven't yet registered you can do so here–Oct. 14 is the deadline), but the first debate between Hillary Clinton and Donald Trump is scheduled for next Monday, Sept. 26. Judging from their swag, the Clinton team is raring to go, with a debate watch party pack that comes with "Chillary" beer coozies. It's still anyone's guess whether Trump will actually participate, but either way, you have time to outfit yourself. Take a stand with slogan t-shirts, show your passion for the cause with a baseball cap, or let your guests remember to dump Trump every time they use your bathroom. 
[Editorial note: In a normal election we would give you gear supporting both candidates. This is not a normal election and we won't pretend that Trump is a normal candidate, or that readers of Brooklyn Based are interested in buying a Make America Great Again cap. If you are, well, Google it.]
You don't have to go look hard for stylish swag supporting Hillary Clinton. She's got a web store that rivals Barneys, with big name designers like Marc Jacobs and Jason Wu making limited edition t-shirts to support the candidate. Nothing beats this unisex Everyday Pantsuit tee ($30), a fun shirt to support a serious candidate. [Ed. note: Why this doesn't come in blue baffles us.]
---
If you're not a t-shirt kind of person and casual Friday means unbuttoning your suit, then maybe a hand-stitched pillow will fit your formal lifestyle better. This Stitch by Stitch throw pillow ($55) claims that "A Woman's Place Is In The White House" and would look great on your Chesterfield or La-Z-Boy.
---
The coffee mug is a perfect blank canvas. With every sip of caffeine, or simply as desk decor, this streamlined Hillary 2016 Mug ($14) from Annie's General Store, is an inexpensive way to show your support. Annie's Blue Ribbon General Store, 232 5th Avenue, Park Slope
---
Slogan: Dump Trump
This novelty gift says more in a single square than most campaign speeches. Donald Trump toilet paper ($14.95) is a perfect gift for your election-obsessed friends, or a wonderful statement to add to your own bathroom. And don't worry, Trump's face is on every sheet, ready to be flushed.
---
If you want to recruit your dog into your politics, the Dognald Chew Toy ($16) from Bark Shop is a perfect addition to the dog run. The reinforced seams, indestructible hair, and plush body will send your pooch to puppy heaven. Best of all, this toy doesn't squeak, he grunts.
---
On your way back from the dog park, don't forget your Donald Trump Dog Bags ($4). These bags are designed in Brooklyn and sold 14 to a roll. You can feel good filling it to the brim with doggy doo, and throwing it right into the trash. Exit 9 Gift Emporium, 127 Smith St. Cobble Hill.
---
If you want to prove your political prowess, but don't want to get involved with this year's election, look no further than the collection of vintage election buttons on eBay. Throw your support behind Kennedy's "New Frontier" speech or Roosevelt's New Deal. Give credit to the past politicians, with this Kennedy For President 1960 campaign button ($25), in a stylish way.
---
Slogan: LGBTTQQIAAP Pride
Whether you're lesbian, gay, bisexual, transgender, transsexual, queer, questioning, intersex, asexual, ally, pansexual, or a supporter of basic human rights regardless of sexual orientation, there's progress to be made. Support gender diversity with this Gender Is A Drag t-shirt (sized for babies, kids or adults) by Otherwild. ($25) Also, 25% of proceeds will be donated to The National Center For Transgender Equality.
---
This ingenious baseball cap packs a double punch by supporting gay rights and throwing shade at Trump. This Make America Gay Again hat ($26), made by the Human Rights Campaign, comes in bright red, navy or white and 100% of every purchase goes toward lesbian, gay, bisexual, transgender and queer equality.
---
Slogan: Get Woke
One of the biggest issues this election year is systematic injustice in America. The term "woke" was just added to dictionary.com, with the example: "In light of recent incidents of police brutality, it's important to "stay woke." Nothing demonstrates just how "woke" you are than a hand-printed  "I Stay Woke" Kimono t-shirt by Wake The Wolves ($38).
---
Show support for Black Lives Matter with the And Counting Vol. IX Tee ($35) by GlossRags.   It bears the names of 17 men who have lost their lives "at the hands of police brutality and race-based hate crimes." There's also a version bearing the names of 10 women.
---
If you agree with Colin Kaepernick's opposition to standing during the national anthem, you can support his position by sporting your own Kaepernick team jersey ($99.99).  This is currently the No. 1 selling shirt at the NFL store, showing that consumers are getting behind a player who says, "I am not going to stand up and show pride in a flag for a country that oppresses black people and people of color. To me this is bigger than football."
---
Slogan: This Is What A Feminist Looks Like
Our first female presidential nominee for a major party is shining a light on just how much sexism still exists in our society. Advocate for women with this The Future Is Female sweatshirt ($50). Created by Otherwild, to honor an original 1975 design for Labyris Books in NYC, the cozy sweatshirt is also an empowering statement. On the fence? A quarter of the proceeds will go to Planned Parenthood.
---
Let everyone know where you stand on equality with an artist-designed enamel pin that says "Feminist With A To-Do List" ($12) by Word for Word Factory. The pin can be attached to your backpack or lapel, letting the world know that you're taking notes and names.
---
Who says you can't be a feminist in the boudoir? Really, has anyone ever said that? Probably not. Well, you can prove that feminism means being strong and sexy as hell, with these 100% cotton undies ($25), that will take you from the bedroom to the boardroom.
---
Slogan: Hug A Tree
If it's the environment and the threat that climate change poses that fires you up, take a stand with a well-designed Stop Climate Change t-shirt by All Riot ($24), and put sustainability first.