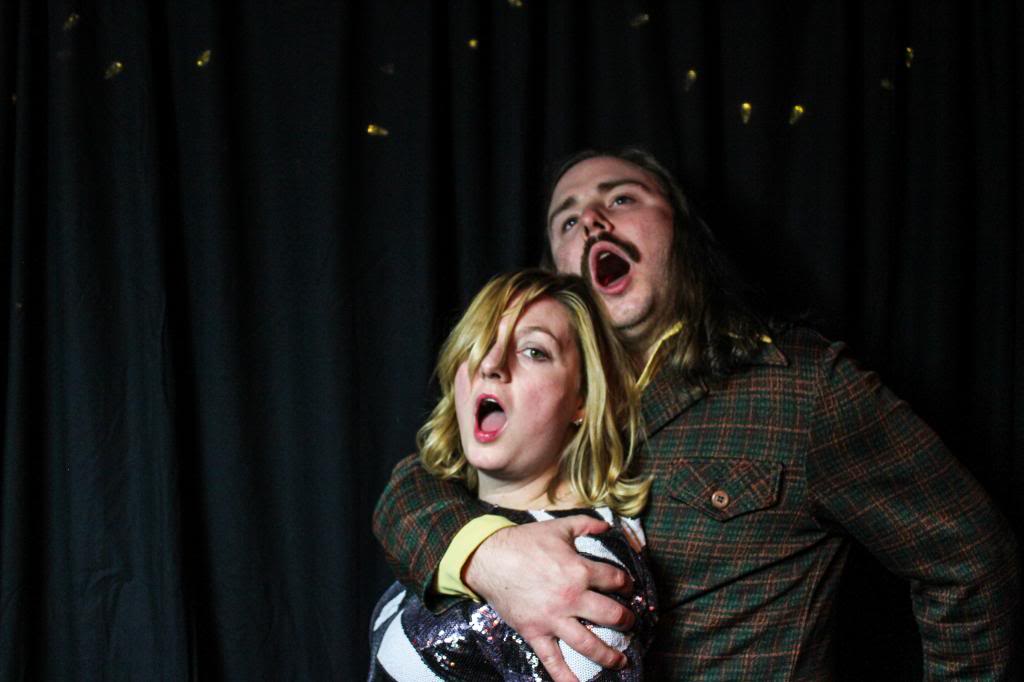 We asked our contributors, friends and notable Brooklynites to share their favorite New Year's in NYC. Here, Diana Kolsky and Murf Meyer tell us theirs. The comedians and real-life lovers perform at the UCB Theater and recently released the 146th episode of their podcast, Ménage à Trois Radio. In each, they chat about real and hypothetical sexcapades and sex-themed news with a special guest—download the Ilana Glazer or Amanda Duarte episodes for a raunchy intro.
Brooklyn Based: What your best New Year's Eve out in New York City, and was it together or separate?
Diana: Ours was together and it was a big night out. Probably five years ago or four.
Murph: It might have been maybe our first New Year's together.
Diana: 2012, I think.
Murph: Some of the people from the comedy community, they throw a New Year's Eve party every year and this one was in Midtown.
Diana: It was in Midtown at some horrible bar. I forget what it's called. I want to say The Top Hat.
Murph: Or The Lame Horse.
Diana: It's like The Old Beer, it's something terrible.
Murph: It's one of those lovely spots right by Madison Square Garden in Midtown, which is actually right where you want to be when the ball drops. [Ed. Note: No, he did not really mean this.]
Diana: My improv team at the time, Tesla, was throwing the party so we had to get there early and help out. But before we went, Murph decided to get a perm.
BB: Oh no.
Murph: Yeah. I thought, you know, what the hell, it was New Year's Eve and I had grown my hair out pretty long at that point so I just wanted to try it. I'd never had one. I always am jealous of people with curly hair.
Diana: It was this tiny little Russian hole-in-the-wall salon near our apartment in South Slope.
Murph: Yeah. I didn't really have the cash to go one of those fancy salons.
BB: I don't think one of those fancy salons would have given you a perm.
Murph: Exactly, yeah. You've got to find the right spot and know the right people to get a perm these days.
Diana: I didn't know perms were still a thing.
Murph: Well they barely are, because what I got was not really much of a perm. It just felt more like just unevenly wavy hair that started to fall apart by the end of the night.
Diana: It was completely straight by the end of the night. It wasn't even as permanent as wedding hair.
Murph: No. I think it was a temp actually.
Diana: A temp perm?
Murph: I think it was more of a temporary than a perm.
Diana: So we go to this party and I'm in this trashy sequin dress and Murph's in this leisure suit from the 70's, and he has a perm. And then our friend Molly gave us molly.
Murph: Yeah, yeah.
Diana: And we basically just made out on the dance floor for 10 hours. I think I might have just pulled Mark's perm out, it was so tactilely interesting to me.
Murph: You were just rubbing until it just straightened it out.
Diana: I rubbed his perm out with my hands. My sweaty hands, my germ paws. And then we came home [laughs].
Murph: It was really crowded by midnight time. The whole bar was slammed, but I think we were just kind of in our own…
Diana: World.
Murph: One of our friends told us afterward that the midnight kiss for us went on for 25 minutes.
Diana: It felt like we were sucking better air out of each other's faces, which is really weird and gross, but it was …
Murph: We were just kind of in our own world. That's what molly will do sometimes.
Diana: But then we come home and Murf smokes a little weed and falls asleep like a baby, and I just laid in bed and had a panic attack and fantasized about cutting my own head off.
Murph: Diana doesn't deal with the comedown that well.
Diana: It was a rough way to start a new year. Murph had a half a perm. I was in a mental institution. It was great.