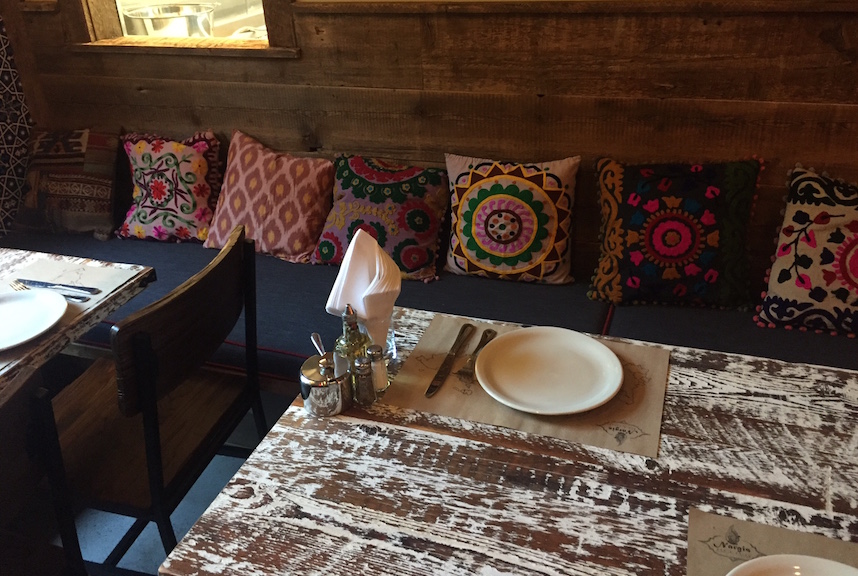 Quick, what's the capital of Uzbekistan, you know the landlocked former Soviet republic in Central Asia?
It's Tashkent, though you may have thought first of the Silk Road city Samarkand.
Now, where do you go in Brooklyn for Uzbek food?
The answer to that is Nargis Cafe, a famed Sheepshead Bay restaurant that just opened a second spot, Nargis Bar & Grill, in Park Slope (155 5th Ave.). "People are tired of everything that looks the same," says owner and head chef, Boris Bangiyev. "This is unique. There's huge potential, and I'm looking forward to explore Park Slope."
With food cooked using coal rather than a gas stove, according to Uzbek tradition, Bangiyev produces traditional dishes, which include dumplings, noodles, salads and the most delicious marinated kabobs. 
Uzbek cuisine is the fascinating and delicious result of being located at the crossroads of Asia, Europe and the Indian subcontinent, with Western Chinese, Middle Eastern, South Asian and Russian influences. Don't expect to find borscht or black bread on Nargis' menus, though you will find some salads that are ubiquitous throughout Russia and former Soviet republics, as well as chebureki, a meat pie that covers similar territory.
So, how should we categorize Uzbek food?  "It is Central Asian," Bangiyev says. "But I'm afraid to call it Central Asian. Unfortunately, people say, is it Chinese? And it's not even close to Chinese." There are some clear connections to Western Chinese cuisine though–think Xi'an Famous Foods, especially the hand-pulled noodles, at work in Uzbek staples like lagman (more on this in a minute).
"I think I'm going to call it Uzbek cuisine," he says.
Bangiyev hopes to open another Cafe Nargis, which is both a flower and a common girl's name in Uzbek, in Williamsburg.
"Williamsburg, Park Slope and here [Sheepshead Bay] is like a big triangle," Bangiyev explains. "We're accommodating different neighborhoods. I want to achieve what people say about Italian cuisine. People say, 'oh I want to eat Italian'. Everyone knows it. But there's not many Uzbek restaurants."
Wondering what to expect and how to order? Here's a cheat sheet to the delicious staples that will someday, if Bangiyev has anything to do with it, be as ubiquitous as pizza and lasagna.
LAGMAN
Among Nargis' most popular dishes is lagman soup, a lamb-beef stew. Adopted by Chinese immigrants who came to neighboring Kazakhstan many years ago, it is made with homemade noodles, long beans, Chinese cabbage, ginger, garlic, green chili flakes and five spices. The most fascinating part of lagman is the noodles. Made out of water, flour, eggs and lots of salt, these noodles have the same process as Chinese noodles. The noodles are formed by looping up to 10 meters around the hands, and then banged against the table. This leads to the noodle not being evenly shaped. In other words, one end could be very thin for noodle, while another end could be rather thick. Either way, this soup explodes with flavor.
SAMSA
This triangular layered dough delicacy has lamb and beef stuffed inside. Dashed with lots of black pepper, cumin and coriander, and lots of onions to keep it juicy, the delicious samsa takes a whole day in advance to prep. It also comes in a pumpkin version, with a little less black pepper, and if you've ever enjoyed its cousin, the samosa, this is a must-order.
KHONIM
Stuffed with potatoes during the week, or meat on the weekends due to high demand, these dumplings are steamed, cooked and served in a bamboo basket. True to traditional Uzbek eating, yogurt or sour cream is the sauce rather than the more common tomato sauce, which is also available on request.
MANTI
These are steamed dumplings, generally filled with lamb or beef. Bangiyev says manti can be found in all Central Asian kitchens, even Chinese kitchens.
TASHKENT SALAD
One of Uzbekistan's popular salads, it comes with boiled tongue. Yes, boiled tongue. It is mixed with shredded white radish, white onion, scallion, cilantro, and topped with a creamy dressing. "If I hadn't told you it was boiled tongue," Bangiyev explains, "you wouldn't have known it."
UZBEK PLOV
Plov is a staple, and one of the most important dishes in Uzbek cuisine. Similar to a pilaf it's a rice dish made with caramelized onions, equal parts carrots and rice, chickpeas, and chopped lamb.
KABOBS
You're probably familiar with kabobs, but these are special, so a few words about what sets them apart. First, they're marinated for somewhere between 12 to 48 hours, off the skewer, and grilled on the skewer over that intense coal-fired heat, at a 30-degree downward angle. Available in chicken, beef or lamb, the lamb kabobs are kept moist during the cooking process with small cubes of lamb fat threaded on the skewer in between chunks of meat.