It seems many schools haven't gotten the memo that summer break is supposed to last until after Labor Day, so school may already be in full swing for your family, like it is for mine. It is a bittersweet time, with the excitement of starting a fresh new year and the end of lazy beach days. Lucky for us, NYC is at its most glorious in the fall. You can duck out of the city for some apple picking, enjoy the weather with one of the yearly festivals or curl up with an app or an "InstaNovel." Whatever you do, don't go overboard with school shopping; personal stylists aren't for kids.
GO:
Apple picking with a pick-me-up
Apple Picking starts Labor Day weekend, and this activity is a symbol of autumn for many families. The orchards are filled with apples, of course, but also face painting, petting zoos, farm stands, bouncy houses and more family friendly activities. Many of these farms are accessible by public transportation. This year, why not add on something extra for the adults? At Apple Dave's Orchards & Applewood Distillery, there are no hidden entertainment or parking fees. Just pretty views, gardens, a walking trail, puppet shows, hayrides and sometimes live music. Best of all, after you've picked more apples than you will ever actually eat, you can drink some actual craft apple beer in the tasting room. It's only one hour and twenty minutes away and if you don't have a car, you can take a bus from Port Authority most of the way, and Uber the last 4 miles. Apple Dave's Orchards, 82 Four Corners Road, Warwick, NY
READ:
Reign in the school shopping
I love when kids have personal style, especially when that includes adorable missteps like clashing prints, unbrushed hair or sweaters in the summertime. My favorite celebrity kid fashion icon is Punky Brewster, who wore mismatched socks and a bandanna around her knee. Unfortunately, in another example of parents acting crazy, some families [obviously ones with money to burn] have been hiring personal stylists to maximize their children's back to school style. According to this New York Post article, 10-year-olds are wearing suits from Brooks Brothers and toddlers have $350/ per hour stylists working to find the preschool interview outfits. Embarrassing photos should be a rite of passage, and looking back at them when they are grown up is a priceless experience.
BUY:  
Digitize your

 s

chool supplies

School supply shopping is basically the best part about going back to school. Although my son's school provides the supplies, I still love buying gel pens, notebooks and other accouterments to refill the art cart we have at home. The Rocketbook Everlast ($34) is a notebook for the digital age, where you use a special pen to write and once you fill it up, you take a photo and save it on your Google drive, or wherever you want. Or there is the Rocketbook Color ($21.99) that also can be used with crayons and markers. Even if your child is too young to master electronics, this could be a great way to save drawings, writing samples, etc. without taking up coveted storage space. The special pens are inexpensive enough ($7 for a three-pack) that you don't have to worry about losing them. 
GO:
Curl up with a good book festival
The Brooklyn Book Festival is a bookworm's favorite day of the year. With panels of authors, publishers selling books, and special events happening all weekend, you can see why. The Children's Day expands every year, with more activities and even more authors. This year on Saturday, September 15th from 10am-4pm, families can meet their favorite authors and illustrators. Kate Schatz (author) and Miriam Klein Stahl (illustrator) of Rad American Women A to Z, Tad Hills of Duck & Goose, and David Ezra Stein of Interrupting Chicken are just some of the literati that will be on hand. Also, there will be performances by Story Pirates, family-friendly bands, Drag Queen Story Hour and an Illustrator Smackdown. There are also going to be tons of hands-on art workshops for kids of all ages. The full schedule can be found here. This free day-long event should not be missed. Brooklyn Book Festival Children's Day, Metro Tech Commons, Downtown Brooklyn.
DOWNLOAD
: Learn something new
I'm not a fan of video games. My child doesn't own an iPad and is lost when friends discuss Fortnite or Minecraft. I tried the New York Public Library's "Insta Novels" where you can read all of Alice and Wonderland on your phone. It sounds like this could be a wave of the future, but my son and I found it frustrating to use. Recently, I read about Duolingo, an app for adults and children that teaches you any language (including Klingon and High Valyrian). Now we are both learning Spanish. The app will remind you when it's time for a lesson, and for just five minutes a day, you can work towards learning a new language. You can definitely practice for longer than five minutes, and the format is fun and interactive, where you can to record your speech and win gemstones while you learn. Just download it on your computer, iPad or phone and use a real educational tool to use to fight off boredom. The best part of all? It's totally free. Plus, it will pay off when you take the next family vacation. Vamos a la playa!
AUDITION:
Calling all activist girls
This is an organization that is really geared towards "young women," but I love the concept so much that I wanted to share it anyway. Girl Be Heard is a feminist theater organization that provides free year-long girl empowerment workshops. They use theater as a way "to empower young women to become brave, confident, socially conscious leaders." Graduates become eligible for paid performance opportunities, shows and advocacy events. They have performed at The White House, the United Nations and Off-Broadway. Girls and trans/ gender non-confirming youth who are interested in social justice issues and performance are can audition on September 13th and 16th by performing one original piece (self-written) about a social justice issue. No experience is necessary. The headquarters are in Dumbo, but the workshops take place all over including Manhattan and the Bronx.
GO:
Bee at the sweetest festival
September is festival month in New York, with a street fair closing down major throughways almost every weekend. There are no shortage of bouncy houses. Many of the classic street parties are overcrowded and uncomfortable. This year, one that looks  most interesting to me is the NYC Honey Fest in the Rockaways. It is quirky enough that it represents the neighborhood values, and not just another generic flea market full of off-brand socks and expensive funnel cake. The 8th Annual NYC Honey Fest will take place Saturday, September 15th from 11am-6pm at Beach 106th street and will include a marketplace, a honey tasting competition and a costume contest. Plus, there will be fun and educational activities for kids. If the weather holds, you can plan to stay all day and catch some sun and surf afterward. 2018 Honey Fest, Beach 106th St., Rockaway Beach, Queens.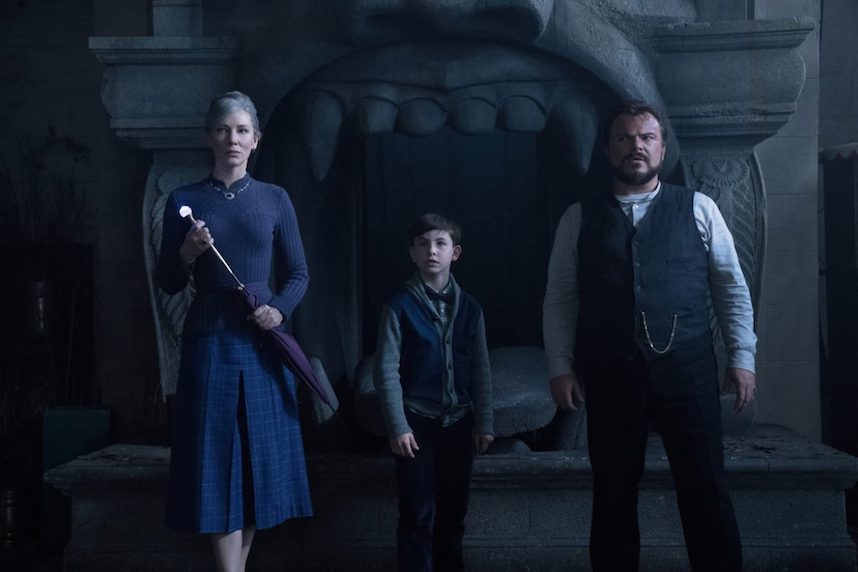 SEE: Yet another orphan movie
September 21st is the release date for fall's most anticipated kids' movie, The House with a Clock In Its Walls, starring Cate Blanchett and Jack Black. (Your family has just a few weeks to start and finish the classic book by John Bellairs.) It's a gothic mystery about magic, so if your children liked Lemony Snicket, Harry Potter or The Lion, The Witch and The Wardrobe, this will probably be right up their alley. Lewis, an orphan, goes to stay with his uncle, who he finds out is a warlock. They find out about a magical doomsday clock that the previous owner of their house hid in the walls, and they have to find it before an apocalypse. Expect a stylized set and loads of special effects. The film is rated PG and may be best for slightly older kids who can handle the dark material.