Oh, fall, you are crisp and beautiful and too damn short. After months of melting on subway platforms, the return of sweater weather feels straight-up sinful — only to careen far too quickly into the slushy mess that is winter. Though you can't avoid the inevitable, you can certainly postpone it with the most autumny of alcoholic drinks: cider. Hard cider has enjoyed a surge in popularity in recent years, and New York City is firmly on board, hosting a Cider Week from Nov. 2 to 11 with events like tastings with Empire State natives Original Sin and Naked Flock and food pairing classes from the likes of Murray's Cheese. All of the attention has inspired quite the crop of cider options, so we've done the harvesting for you and picked some must-trys you're sure to fall for.
---
---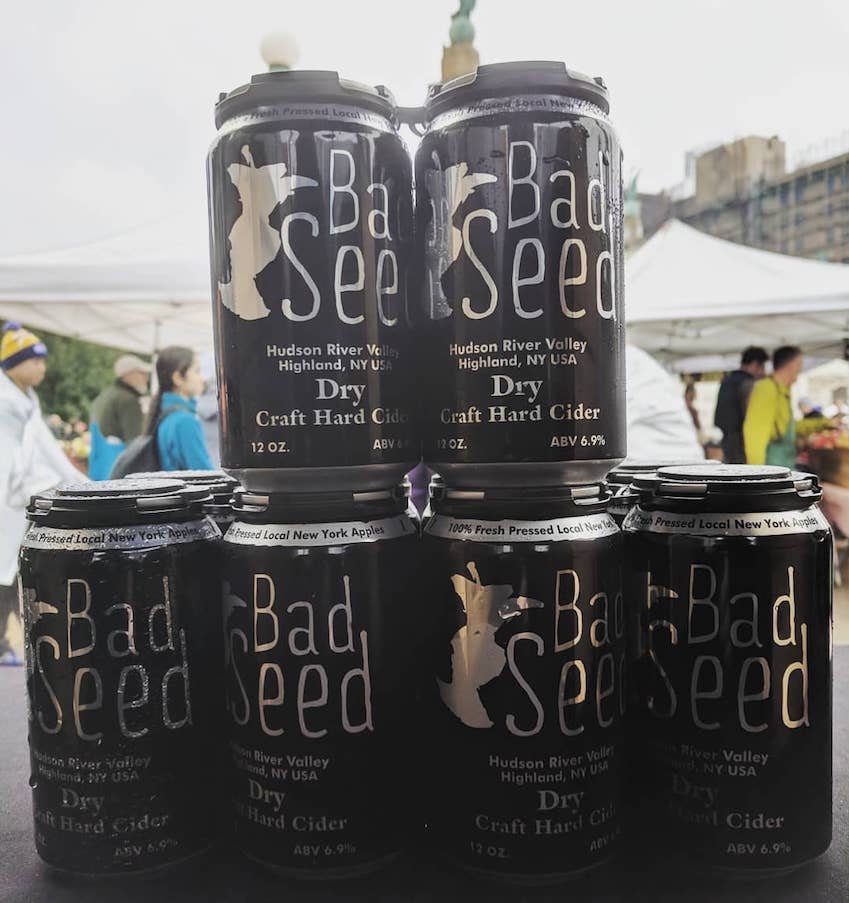 Skip the sugar with Bad Seed's Original Dry Cider
If you've always thought of cider as glorified apple juice, Bad Seed's Original Dry is going to blow your mind. Super dry and wicked strong, the company's flagship offering is nothing like the sickly sweet ciders you've choked down in the past. It drinks like an apple champagne because that's pretty much what it is. Apples from their family farm are fermented with a sauvignon blanc yeast to impart a winey vibe — and that's it. There's no added sugar, just a whole lot of crisp apple goodness that even cider skeptics won't be able to resist.
Find it at Bad Seed's Crown Heights tap room, 585 Franklin Ave.; Berg'n, 899 Bergen St., Crown Heights; and Old Town Bar, 45 E. 18th St., Gramercy. The cider is also available at the Whole Foods outposts in Brooklyn, as well as many of its other locations around the city.
Spice things up with Kings Highway's Ginger Snap
You don't have to be a ginger fanatic to love Kings Highway's Ginger Snap cider. The secret to the balanced beverage is roasting the ginger over oak before throwing it in with dried lemongrass and apples to ferment, which the company says tempers the root's spiciness. The result is a refreshing cider with the perfect amount of zip to spice up a cool autumn evening.
Find it at Gold Star Beer Counter, 176 Underhill Ave., Prospect Heights; Covenhoven, 730 Classon Ave., Crown Heights; and BierWax, 556 Vanderbilt Ave., Prospect Heights
Lean into fall with Naked Flock's Pumpkin Cider
Yeah, yeah, we all mocked Starbucks for busting out its pumpkin goods before the end of summer. But now that the leaves have turned, it's time to admit the truth: Fall just doesn't feel like fall without a touch of pumpkin. This year, switch up your gourd consumption with Naked Flock's Pumpkin Cider. The cozy drink gets its flavors from real roasted pumpkin, cinnamon and clove — without veering into pumpkin spice latte territory.
Find it at Malt & Mold, 362 Second Ave., Gramercy; City Swiggers, 320 E. 86th St., U.E.S.; Murray's Cheese, 254 Bleecker St.., West Village; and the Park Slope Food Coop, 782 Union St.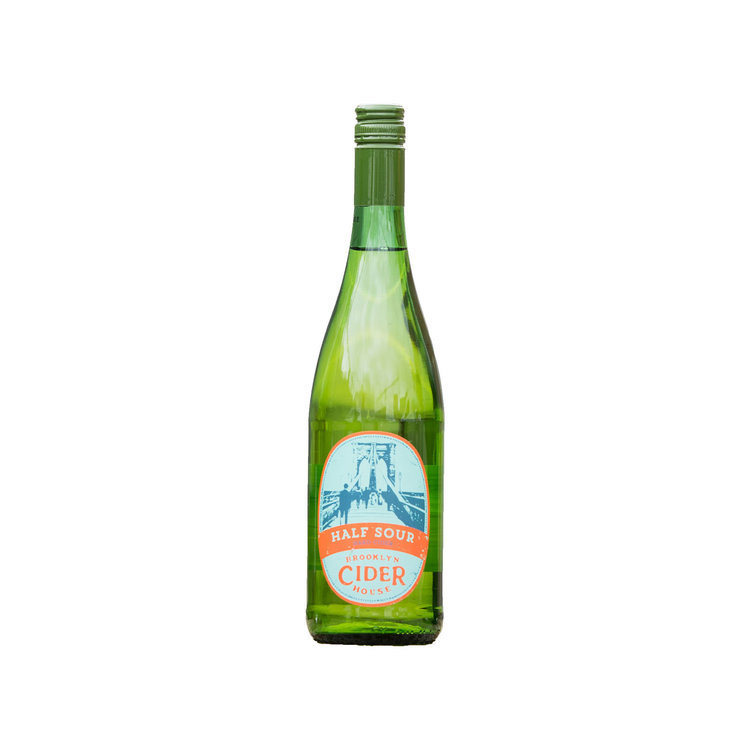 Turn up Turkey Day with Brooklyn Cider House's Half Sour
Let someone else slave over the stove trying to replicate your grandmother's sweet potato casserole, and bring Brooklyn Cider House's Half Sour to Thanksgiving instead. The off-dry cider is less sour than you'd expect, with hints of honey and pear rounding out the citrusy flavors, and pairs well with turkey, according to owner Susan Yi. So go ahead and start a new tradition — or at least distract your prodding aunt who really, really wants to know when you're getting married.
Find it at the Brooklyn Cider House's Bushwick restaurant, bar and cidery, 1100 Flushing Ave. as well as various locations across the city, including Mission Dolores, 249 Fourth Ave., Park Slope;  Milk & Hops, 1159 First Ave., U.E.S.; and Whole Foods.
Keep it classy with Wölffer's No. 139 Red Cider
Is it just me or was Wölffer's rosé cider everywhere this summer? The wine-inspired cider seemed to pop up at every bar, barbecue and bodega, giving its forebearer a run for its money. But don't fret if fall makes you want to reach for a red — the vineyard has it covered with its new No. 139 Red Cider. The sparkling dry cider is the perfect autumn counterpart to its summery sister, influenced by the rich wines that feel oh-so-right when the temperatures begin to drop, but with the same crisp quality that makes the company's rosé dangerously drinkable.
Find it at grocery stores, restaurants and bars throughout the city.
Brunch better with Graft's Lost Tropic
Graft is a favorite among fellow cider makers, winning over the competition with funky, sour offerings like its Lost Tropic. Made with tropical hops and citrus zest, the cider is the mimosa substitute you didn't know you needed. It's tart and juicy like the brunch classic, sans the inevitable champagne headache. Pick some up for your next Sunday soiree and you just might be left wondering why you ever brunch with bubbly.
Find it across the city at grocery stores like Whole Foods and Brooklyn Fare, as well as bars, restaurants and breweries like Threes Brewing, 333 Douglass St., Gowanus; Sisters, 900 Fulton St., Clinton Hill; and Dirty Precious, 317 Third Ave., Gowanus